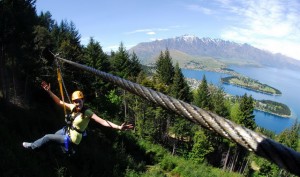 The 'new kid on the block' Ziptrek Ecotours is Queenstowns' newest activity in 6 years. Based on Bob's Peak next to Skyline Gondola they have cleverly blended into the mixed alpine forest a series of tree-houses and ziplines (or flying foxes) which uses only gravity to move through the course on a guided tour.
With a choice of two different tours, there is something in it for everyone. The Moa tour is great for families or those wanting a 'taster' of what ziplining is all about, the Kea is the high velocity, adrenaline pumping 6 zipline/flying fox tour that also has the steepest tree to tree flying fox in the world! This epic finale is 300m long and drops 30 storeys, top speeds on this line reach about 70km's. As the tours are guided, there is no need to connect yourself onto the lines or control your speed or how to stop, an ingenious braking system (controlled by the guides) brings you to a gradual stop before entering the next tree house allowing us guests the freedom to do whatever we like while on the line, as for me my favourite was going upside down!
I was most surprised about the eco message that Ziptrek guides deliver while on the tour, to sum it up its subtle, entertaining, relevant and interesting….these people talk the talk and walk the walk of sustainability so much so that they have won awards for it. Ziptrek Ecotours' recently won the Queenstown Chamber of Commerce Sustainability award and have also been Qualmarked endorsed with Enviro-Gold status.
This is a must do in Queenstown. They currently rank 4 on Trip Advisor out of 55 tours which shows how popular they have become after operating just over a year. The thrill of the ride and the scenery you see while up the gondola or during the ride is well worth the price. To find out more information or to book your ride visit Ziptrek Ecotours.