Ski in Queenstown
Surrounded by snow capped mountains and a crystal clear lake, skiers and snowboarders alike converge on Queenstown, NZ during the winter season. They all come to experience the snowy winter wonderland, the atmosphere of Winter Festival, the activities the region has to offer and the wonderful cosmopolitan resort town.
As the region is very popular during this time of year it is recommended that if you that you book your Queenstown Accommodation and Queenstown Activities early to avoid disappointment.
Queenstown Ski Fields
The 2011 Queenstown ski season begins on the 4th June and runs well into October. The weather is stable this time of year with many crisp blue days. This means the ski fields rarely close due to bad weather.
Queenstown is located within 30 mins drive from the New Zealand's oldest ski field, Coronet Peak but there is a range of many other ski fields within close diving distance from town also. These are The Remarkables, Cardrona and Snow Farm & Park. There are also Treble Cone ski field close to Wanaka as well as some hidden gems up in the mountains perfect for heli-skiing – the iconic Queenstown winter adventure!
Queenstown Winter Festival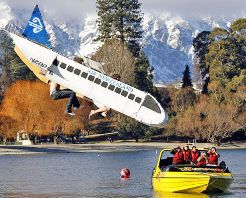 The Queenstown Winter Festival occurs every year from June 24 – July 3. This event has been going for more than 30 years and has become the southern hemispheres ultimate winter party with visitors from all around the world. This ionic New Zealand event attracts 60,000 people which helps create a very lively exciting buzz.
There are fireworks, family fun, drag races, street parades, birdman action, comedy, jazz, food and wine, a great mix of internationally acclaimed performers and home-grown acts, a ball – and that is just in Queenstown! Many events are also held up on the ski fields such as ski races on bikes, Speights dog derby and an entertaining suit case race. The Queenstown Winter Festival is an excellent time to visit but there are also many other Queenstown events through out the year.
Queenstown Ski Rental
The town center changes during the winter period with many of the mountain biking and out door activities shops changing to ski rental stores. It is easy to rent your ski gear from the many options available in town or if it is more convenient for you many ski fields also have ski rental available on the ski fields themselves.
Queenstown Ski Fields Transport
There are many transport options available around Queenstown and up to the ski fields. Queenstown Rental Cars are available from the airport or in town if you wish to drive yourself. If you prefer there are also many buses which do ski field transfers most of which can be easily arranged from your Queenstown Accommodation