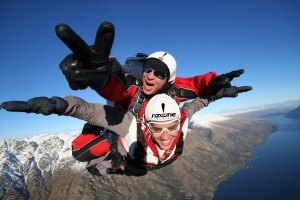 A skydive is perceived as many things to a lot of people, terrifying, death defying, crazy but my experience with NZONE Skydive for my sky-dive literally blew this misconception out of the proverbial sky. I describe it as exhilarating, liberating and the most mind blowing fun I have ever had in my life.
I went through the emotional roller-coaster that got me to the 'Drop Zone', I threw my inhibitions to the wind and booked my jump, followed by the realization of the gravity of my undertaking in said task – literally, I find myself imagining the experience and contemplating the physics as my mind tries to rationalize the fear……my heart is already in my throat.
Now that I'm at NZONE Skydive's 'Drop Zone' located at their airfield just out of Queenstown, watching the instructor demonstrate how to 'exit the aircraft' and all I can think is " I hope I don't stuff it up". Thankfully I have a trained jump-master attached to me to remind me of every instruction. At 12,000 feet above Lake Wakatipu I feel the cool high altitude alpine air enter the cabin of the plane – the door is open and the moment of truth has arrived. I cannot even begin to describe what free fall is like……no wonder the birds sing, I'm having the time of my life with the most spectacular view of the world below. Now that I'm relaxed in this state I start to have a bit of fun with my free falling photo/video guy and start posing – superman style, sleeping style, two thumbs up and yahoo-ing as loud as I can.
The chute is pulled and we slow down quickly, my video guy disappears as he plummets to the earth still then pulls his chute. I yell with delight, I suddenly realize how quiet it is now that the air isn't rushing past us and I quickly apologize to my jump master for my lack of volume control. We float towards the ground again in a series of spins and turns and the landing was much easier than I had originally thought.
So how do I feel now back on solid ground……? On cloud nine! If there is only one crazy thing you could do in your life, make it a sky-dive with NZONE Skydive, trust me, you won't regret it!
Book your NZONE Skydive