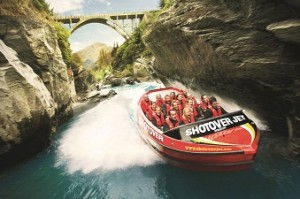 Wow, this ride is breath taking. Shotover Jet is world famous and it is easy to see why. You experience some amazing scenery as the jets zoom up and down the Shotover River Canyons. You also need to check your heart is still working during the trip, as the boat gets very close to the cliffs, which is usually followed by a scream or two. I felt completely safe the entire time though as the jet boat drivers seem to know the river like the back of their hands.
The company has been taking rides on the Shotover River since 1970 and are the only company permitted to ride through the Shotover River Canyon. The ride involves jumping into a bright red boat and traveling along the Shotover River and the Shotover Canyon, at times in water only 10cm deep. The whole experience seems to defy the laws of nature and is on the must do list to Queenstown. All of this is just 10 minutes from Queenstown at $119 per adult and $69 per child. You also have the option of purchasing photos and video of your experience so you can relive the experience all over again.
I would highly recommend this activity, possibly even going as far as rating it 9.5/10. I got a little bit wet on my ride which I know I should expect when you have a ride on water but I wasn't in the mood for getting wet that day which prevents the perfect 10. Book your ride on Shotover Jet and find out why they are world famous.
Also check out our review on Kawarau Jet