Moke Lake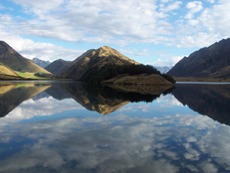 This is a great place to come and do some fishing, boating (please note there is a 5 knot speed limit), kayak on the lake, have a walk or mountain bike around the lake (takes about one hour and a half hours walking) or to Lake Dispute (takes about two hours walking). If you prefer you could just relax the old fashioned way. There is also a great walk/mountain bike trail from Moke Lake around behind Ben Lomond along some wonderful back country scenery. This is roughly about 10 KM so you need to plan a whole day if you wish to walk. The track can be difficult to bike in some places and your bike may need to be carried. It is well worth the trip however.
There is no better place to get away from the hustle and bustle of civilization with a wonderful peaceful and quiet ambience. In fact, its remoteness means there is no man made light to ruin the night sky. It is such a wonderful feeling lying down gazing at the stars in this beautiful spot. This is one of Queenstown's hidden gems and one of it's best camping spots.
Accommodation is available at Moke Lake at the Moke Lake campsite which is located in a very beautiful quiet spot up a unsealed road right next to Lake itself. Moke Lake is located off Glenorchy Road about 6km from Queenstown. It is run by the Department of Conversation and costs $7.10 per adult or $3.50 per child (5 - 17 years) per night (Children under 5 are free. It takes about 20 - 30 minutes to drive there from Queenstown. There is a toilet available and water is available from the stream or lake. Make sure you pack some sandfly repellant in your bag as there can be a few here at times. Reviews of the campsite can be read at Rankers.
If you want to stay somewhere a little bit more comfortable, then Queenstown is not far away. We have a wonderful collection of accommodation to suit anyone's budget.
Click here for Accommodation
How do i get there?
The map below shows you where Moke Lake is located. You should follow the Queenstown - Glenorchy road for about 5 minutes. You will come across a road on your left with a sign pointing to Moke Lake. Follow this road as far as it goes.
View Larger Map